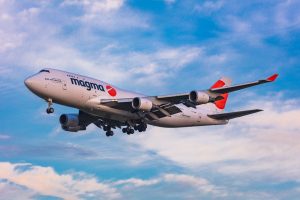 In August 2020 the team at Magma Aviation embarked on their digital evolution project, to develop and transform the Magma Aviation Flight Management Systems. The project aims to drive increased efficiency, to support and align its technological capabilities with it's business growth strategy. The project will develop and integrate Magma Aviation's flight management system and will help re-engineer its processes.
After researching customer behaviour trends, Magma Aviation observed that their customers are driving for an all-digital interaction and have been actively seeking out suppliers that could offer the latest technology.
Recently, IATA has been promoting for the air cargo industry, to digitalise their processes and systems.  Magma Aviation recognised the importance this has and have high hopes of one day offering market leading technology to its customers. This evolution of the company systems is the first step.
Development began in early 2021 with a go-live date of March 2022. Undertaking such a large-scale project has not been without its challenges; Magma Aviation has been running this project alongside an extremely demanding period as it continues to run a full and complex flight program. On top of demand , the team have had to overcome obstacles caused by Covid and people working remotely during lockdowns. None of this dampened the spirit of the team who are dedicated to getting this over the line.
To date, the project has involved centralising Magma Aviation's Fuel Management System, centralising its Permit Management System, automating the Maintenance Management from our partners and re-building and making improvements to Magma Aviation's Booking System.
Tom Helyar, Magma Aviation Chief Strategy Officer, who has been the project lead comments:
"Digitalisation has been a key focus for the Air Cargo industry over the last number of years, and for Magma Aviation, it is very much a key pillar in our strategy now and going forward.  We intend to set our own standards in terms of digital offerings with bespoke platforms for external and internal clients.  I am extremely proud of this project and the positive impact it has had on the business. On behalf of Magma Aviation and personally, I want to thank everyone involved in the project, we would not have been able to do this without you."
Photo credit: BarryHutton.com