Magma Aviation, the innovative air cargo solutions company, is Platinum Sponsor for team 'Raring to Row' in the Talisker Whisky Atlantic Challenge 2022.
The 3,000 mile rowing race takes place across the Atlantic Ocean, departing from La Gomera in the Canary Islands and arriving in Antigua. Dubbed "the world's toughest row", the journey will see the team's four rowers, Helen, Gemma, Kevin and Adam, alternating between rowing and resting every two hours for approximately 45 days. The team will battle sleep deprivation, salt sores and 40ft waves during their quest to raise money for leading UK children's medical research charity, Action Medical Research.
Conor Brannigan, CEO of Magma Aviation, said:
"At Magma Aviation we are incredibly excited about the upcoming 2022 Talisker Whiskey Atlantic Challenge.  We are delighted to sponsor the amazing 'Raring to Row' team and give them whatever support we can to help them achieve their goal. This 3,000 mile boat race is certainly not for the faint-hearted, and we really are in awe of the team as they prepare to face this most daunting physical and mental challenge."
While the 'Raring to Row' team will face this challenge on the Atlantic Ocean, many young children face daunting and physical challenges in their day-to-day lives, due to rare disease. The Action Medical Research for Children charity funds vital research to help defeat these diseases thus helping save and change children's lives.  We could not be more appreciative of the fantastic work they do, and we really hope this endeavour by the 'Raring to Row' team will help raise much needed awareness and funds to help further their reach and research."
Standing: The Magma Aviation team
Kneeling left to right: Rowers Kevin Watkins, Helen Stone-Ward, Adam Siggs and Gemma Best
Action Medical Research funds more than 60 research projects at leading hospitals, universities and specialist centres across the UK. These projects tackle rare childhood diseases and conditions such as epilepsy, cerebral palsy, brain cancer and meningitis.
Lewis Coghlin, Director of Fundraising at Action Medical Research, said:
"Action Medical Research is extremely grateful for all the support from Magma Aviation for team Raring to Row, who are undertaking the epic challenge of rowing across the Atlantic this December. The money raised by this awesome team will support much-needed research to help children who are living with rare diseases. Whilst rare conditions are individually uncommon, collectively there are over 7,000 rare diseases which affect millions of people, including children. 75% of rare diseases affect children, and sadly 30% of children with a rare condition will lose their lives before their fifth birthday. This is why we urgently need support to develop treatments and cures to tackle rare diseases that together affect so many forgotten children."
The Raring to Row members are currently training extensively, and together they must complete 120 hours of rowing in their race boat, a Rannoch R45 named Lady Jayne, prior to the Challenge beginning. Featuring just a small cabin at each end, 300kg of freeze-dried rations and a desalination pump for drinking water, Lady Jayne will be their home from 2nd December when they leave La Gomera to embark upon their adventure across the Atlantic.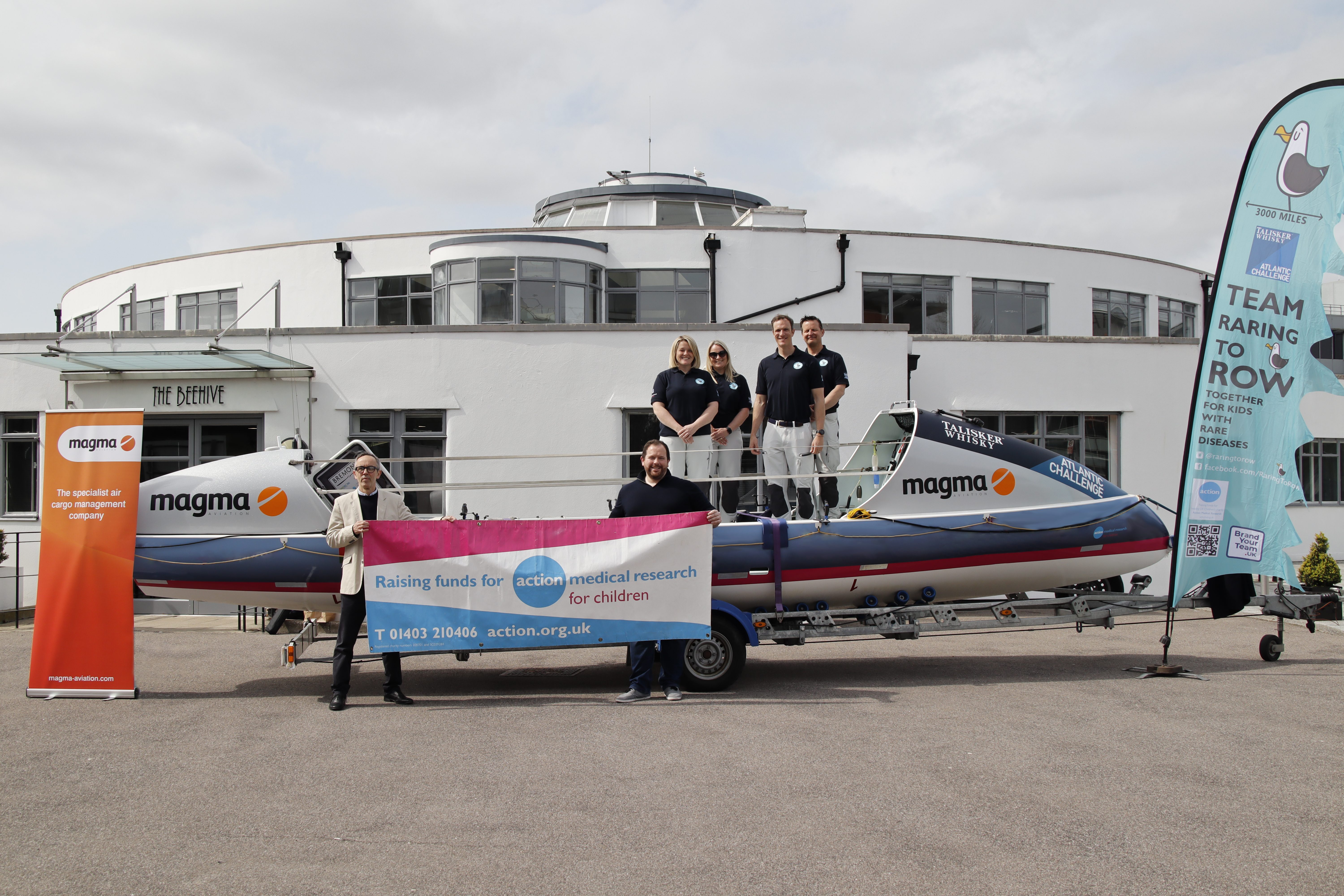 Back row left to right: Rowers Gemma Best, Helen Stone-Ward, Adam Siggs and Kevin Watkins
Front row left to right: David Graham, Head of Major Giving, Corporate Partnerships and Community Fundraising at Action Medical Research and Conor Brannigan, Chief Executive Officer of Magma Aviation
Rower Gemma Best has previously completed the Atlantic Challenge. She explains:
"I had two beautiful little sisters, Jade and Jordan, both born with a very rare genetic condition. Unfortunately, their lives were very short, but very much full of love. We were lucky as a family to have had not only great nursing staff, but also fantastic consultants who were willing to research the condition. Upon returning from my first Atlantic Challenge, I spoke to Action Medical Research in depth about their work and realised that without charities like this, families would not benefit from the amazing work researchers do to advance medical treatments, and in turn help families like ours."
Helen Stone-Ward is completing the Atlantic Challenge for the first time this year. She comments:
"To have Magma Aviation on board supporting us and believing in us to take on this incredible challenge is truly amazing and instils self-belief in us as a team. Their support is not just for us but more importantly will be instrumental in assisting Action Medical Research to help many families across the country battling the most difficult of times. To us this is really something so special and we couldn't be more grateful to have Magma Aviation as part of our team."
Follow Magma Aviation and Raring to Row as preparations for the race continue over the coming months:
www.instagram.com/magma_aviation
Support Raring to Row and Action Medical Research:
Raring to Row – Talisker Whisky Atlantic Challenge – December 2022 – JustGiving
Left to right: Rowers Gemma Best, Helen Stone-Ward, Adam Siggs and Kevin Watkins