Sixteen-year-old Lego and aviation enthusiast, Silas De Kunst from Belgium, was invited to Magma Aviation's head office in Gatwick, UK this week to present his recent masterpiece: a Magma Aviation B747 that he designed and built from scratch.
The aircraft, comprising of approximately 6,000 pieces, measures almost 1 metre lengthways and has a wingspan of 84cm.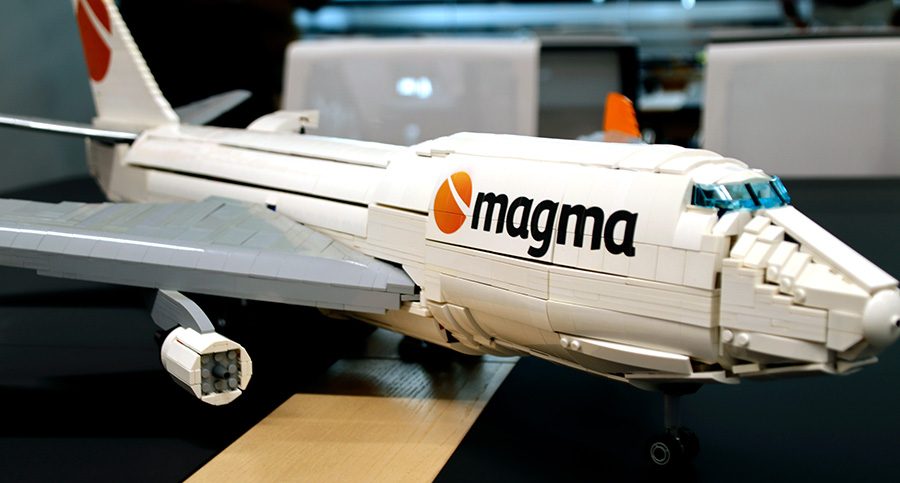 Silas has enjoyed Lego since he was a young child, and it was when he had exhausted existing sets that he began exploring the possibilities of designing his own builds. He explains, "I decided to build a Magma Aviation aircraft because it was one of the first Boeing 747s I ever saw up close. It left an impression on me that I couldn't forget, so I decided to make a to-scale model."
The length of time it takes Silas to design and build an aircraft varies depending on the model, with this one taking him 6 months to complete. However, it can be anywhere between 2 months and 2 years.
Silas has a particular fondness for the Boeing 747 because, "It is such a recognisable plane that really made a difference to the world of aviation. It was first built in a time when people couldn't even imagine an aircraft this size. It's a dream of mine that one day I might be able to fly on one".
Silas is delighted to have his model displayed in Magma Aviation's office. He said, "It's always been a dream to have one of my models displayed somewhere special. This becoming a reality is overwhelming and something I will cherish forever. I am really thankful to Magma Aviation for putting this visit together for me."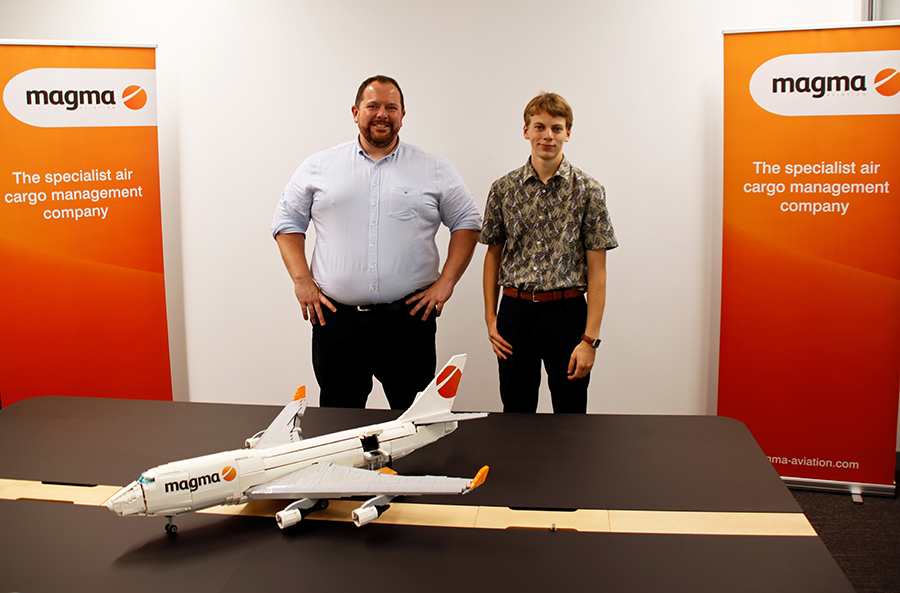 Conor Brannigan, Magma Aviation CEO, comments: "I am incredibly impressed by the Magma B747-400F Lego model Silas has created. He has invested a lot of time and effort, and to see it in the flesh is very inspiring. What makes this endeavour even more special is the fact Silas chose to create the model after seeing one of our aircraft at Liège Airport.
I really am delighted we can welcome Silas at our head office so that he can make the model aircraft a permanent fixture in our boardroom. I have no doubt it will be a topic of conversation for whoever lays eyes on it, and I will be more than happy to tell the inspiring story behind it."
Silas is already working on his next Lego project – the Aircraft Beluga. "This plane has an incredible shape to achieve in Lego in a realistic way, so by doing this I am improving my skills even more and proving that Lego doesn't have a limit."
Magma Aviation, the specialist air cargo management company, wishes Silas all the best in his future Lego and aviation endeavours and is honoured to have his stunning B747 on display in their office. Conor adds, "With his passion, I have no doubt Silas will have a bright future in aviation if he so chooses that path."